S.P.A.R.K. Leaders Shine On
Discover Our 3 Game-Changing Habits
At the top of the list of what hurts my heart is women bringing one another down.
At our core, we are nurturers. Yet, we are fierce, too. If our fierceness is driven by pain, it can be absolutely destructive.
Maybe they post something negative about us, maybe they defriend us, give us a dirty look, ignore us, say something passive agressive, OR are just straight up aggressive. You have probably, like me, been on the receiving end of that and know how confusing it is, and worse, how much it hurts.
Until recently, I had few female friends who stood by me through thick and thin. I dealt with a lot of betrayal growing up, so building and keeping female friends was complicated.
This all started for me when I was fourteen. I'll never forget the day when some of my closest friends (at the time) talked about my body behind my back and ridiculed the way I walked. Their laughter was a wave of pain and confusion that washed over me. Prior to that moment, I had never had friends betray me. I felt alone. Their comments were wrong on so many levels. And as a teenager, all I knew was it hurt.
If you're anything like me, you probably have a long list of complex, painful experiences with female friends too.
Sadly, my experiences with female friends trained me to be cautious of trust, the key component to developing healthy relationships.
However, after years of doing intentional work to heal wounds from the past (involving all types of relationships), I know now (though it doesn't make it okay or easier), the people who hurt me were just projecting their own pain.  
Knowing that, I can see their betrayal as THEIR problem, not mine.
Which reminds me of the Shine Theory, coined by Anne Friedman in 2013, that comes down to this simple fact:
I don't shine if you don't shine.
This is pretty radical stuff, because a lot of us have been taught to not stand out, so when we see someone who does, it triggers a ping of envy and self-judgement.
I heard about the Shine Theory right as I became an entrepreneur in 2016, and because of it, I made a commitment to myself: to rise up and always SHINE ON (rather than my default of laying low, and/or shrinking into my shell when uncomfortable). No matter what.
I made an intentional choice to lead from my scars, not my wounds. To accept the past as the past, and refuse to let painful experiences hold me back. I was determined to be the female leader I never had.
So that became a part of my mission.
I decided to actively seek out women who were showing up fully, shining their unique brilliance in the world, supporting their community, and allowing themselves to do the same–and I became their loudest cheerleader.
From board rooms, to classrooms, to auditoriums, I showed appreciation for women who stepped up and spoke out.
President Obama's administration and the women who were leaders in it built upon the shine theory by creating the Sisterhood Shine On Movements.
John F. Kennedy said, "A rising tide lifts all boats."
And S.P.A.R.K. aims to do just that. We offer another way of engaging as leaders, and we hope that others rise up with us. Our approach is all about collaboration–sparking meaningful community, connections, and conversations.
We are a community-building and leadership-development organization, and we are committed to helping leaders lift each other up. We support a lot of female leaders to become living examples of the Shine Theory, affirming and acknowledging other women with love, for love.
S.P.A.R.K. leadership is about solidarity and strength.
Wanna Shine On and Lead with a S.P.A.R.K.?
Here are three things you can do today:
We have to be ego-distant in order to truly see each other. See each other's brilliance, talents, and gifts not as competition (with scarcity mindset), but to see it with a growth mindset.
Invite praise in a new and different way to the table. Shine love and light on others in service of justice as a strategic move. The next generation

needs

to see us lifting each other up. In this way, the rising tide does lift all boats.

Appreciate a female friend for their unique ideas, successes, accomplishment. Affirm their brilliance takes authentic ego-distance. The more you genuinely affirm, the more you rise, too!
Our S.P.A.R.K. acronym directly connects to this as well: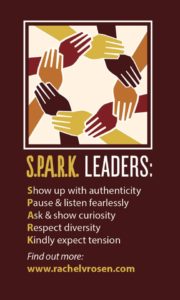 I'll close by saying this: I'll always be a work-in-progress, practicing these habits, alongside you. I am (and will always be) grateful to the mentors, friends, and Advisors in my life who have SHINED ON me and encouraged me to do the same. Everything that I offer is in that spirit and intended to be food-for-thought.
If you're interested in learning more about our approach, and the promising practices, stances, and adaptive leadership habits that we work on intentionally and extensively in my 10 week leadership program, click here! Application doors open tomorrow, and the program starts on January 8th.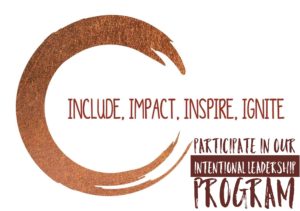 Now, I'd love to hear from you. Comment below and let me know your answer to any of these questions:
What do you think about the Shine On theory?

What does it mean to be a collaborative leader?

How can I make this an even stronger community space for Shining On each other?
With love,
Rachel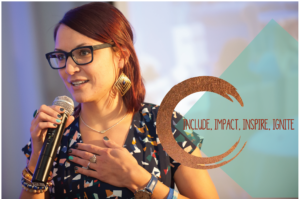 S.P.A.R.K. was founded in 2016 by Rachel Rosen, a seasoned facilitator, racial equity leadership coach, and LGBTQ advocate. S.P.A.R.K. offerings sit at the nexus of Rachel's personal and professional passions, and she is on a mission to bring more empathy to the world, one conversation at a time. With a Masters from Stanford, and extensive training in leadership, coaching, team and organizational development, S.P.A.R.K. experiences are grounded in theory and practice. S.P.A.R.K. offers experiences that support leaders and teams to unleash their potential to facilitate powerful experiences, collaborate, and build trust.