Any time guns are fired at a school, the questions I have exceed any possible answers.
On February 14th, my newsfeed blew up with explosive energy–pain, blame, sadness, and upset–about the tragedy in Parkland, Florida. And again today, pain and confusion permeated my screen when I heard about the teacher who fired shots at Dalton High School.
Time and time again, I put my phone down and kept wondering:
How did we get here?
Why did we get here?
Why did a teenager–a 19 year old–choose to return to his school to cause pain intentionally?
What does that say?
What does it mean?
How did he (the suspect, identified as 19-year-old Nikolas Cruz) get to the point of turning to violence?
Where do we go from here?
Why do hurt people hurt people?
Let's review the facts…
In the 1960's there was 1 school shooting
In the 1980's there were 27 school shootings
In the 1990's there were 58 school shootings
From 2000-2012 there were 102 school shootings
And 70% of the shooters were born after 1980. All the shooters investigated indicated that they felt isolated, lonely, outcasted, disassociated. (more here: https://everytownresearch.org/reports/analysis-of-school-shootings/)
As I heard more about Nikolas Cruz, and saw what's below, I noticed that he fits the profile of the other mass shooters.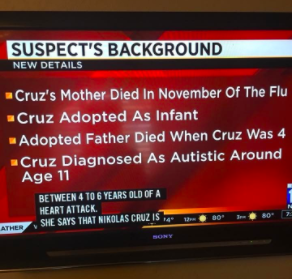 It's easy to point fingers, blame, judge, and make assumptions. It takes courage to wonder and be curious, to acknowledge that we all play a role, and to show love during times of chaos and rage.
I think it's safe to say we have all felt disconnected, isolated, confused, misunderstood and hurt at some point in life. Those painful feelings can cause us to turn inward, trying to protect ourselves from further pain and discomfort.
If we experience feelings of disconnection, isolation, confusion, feel misunderstood and hurt every single day–for years–I believe we eventually lose the capacity feel empathy, compassion, and respect for others. That's the problem. Sadly, increasing evidence suggests that students feel unsafe at school.
Nikolas Cruz went back to his very own school–with open wounds of rage, pain, and every intention–to kill.
As pained and confused as I am about all that's happened, and as difficult as it is, I won't give up hope in humanity, and I won't stop choosing love. Even when it's hard. Especially when it's hard.
As an educator, I found myself wondering when and where things went wrong for Nikolas. I wondered if there was one specific moment or missed opportunity he had as a student. I wondered–what if he had had a breakthrough like Kyle Clark (who created this video).
As someone who's dedicated over ten years to working in Oakland schools, I also found myself wondering–where have all the news broadcasters been when low-income, marginalized community members have cried out for help? Or when folks who experience gunshots everyday beg for more justice and safety? This piece really hit home for me, Janaya Khan's words echoed loudly, "Why was it so easy to support the Parkland youths while the youths in the Movement for Black Lives were repudiated and disregarded?" I'm with you.
So it's time to start talking about addressing the root-cause of what's at play here. Pointing fingers, putting bandaids on symptoms, and blaming individuals isn't going to help address the root cause.
Clearly people are in pain and under stress–adults and children. And when pain and stress are left unattended, people act out. And the education system is implicated here in big ways. So we need to talk about why that is, and why patterns persist in school systems.
Here's the thing: We all know that wounds that haven't been tended to properly become infected and if left untreated begin to cause rot.
Over the years, we've all made choices — to stand up, speak up, or not – about guns, education, and violence.
One could say that our country is rotting.
The saddest part of this is that every single one of us holds the medicine to heal the wounds. Every single person has the power to stop this in small ways. We all have the power to interrupt unhealthy patterns.
If "enough is enough" then we must start making new decisions–to think, engage, and act differently.
It starts with one choice.
It just takes one person–to say "I see you"
One teacher to say "Are you okay? Would you like to talk? I'll listen" OR "I need help."
One friend to say "you can sit here."
One parent to say "let's talk"
One principal to say "I'm committed to a different conversation"
Just one person to offer an ounce of hope and love.
To choose curiosity over certainty.
To ask rather than assume.
To wonder rather than judge.
So, let's return back to two of my original questions: How did we get here? + Where do we go from here?
Did we get here because too many people don't choose love? Did we get here because too many people are so focused on our own pain, fear, confusion that they can't help anyone else? Maybe people don't feel worthy of love so they can't choose love? Did we get here because we don't have the skills or capacity to choose wonder or hope?
I don't have answers.
But one thing I know for sure: If we don't start loving, we will not survive.
It's time for change. The image below, which depicts cycles from the past, must not continue to represent our country.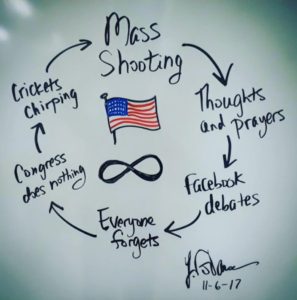 We are beyond debates, in my opinion. It is time for action. While we raise our voices in solidarity about policy changes, engage in conversations with our political representatives, we must also start the process of healing our wounds and helping others heal theirs through love.
Now is not the time to be cynical. That only separates us further from action toward just and lasting change. We must be of service in real time in the flesh.
We need to be reflecting on and talking about WHY these painful patterns are persisting in our school systems.
We need to learn, reflect, and talk about the impact of trauma on the brain. We need to reflect on and talk about what it means to utilize restorative justice practices and what it really takes to internalize restorative habits of mind. We also need to reflect on and talk about what news is worthy of attention in the headlines and how bias plays out in the media.
We need to talk about the importance of teaching/leading with emotional intelligence and why it's imperative that we explore our unconscious biases–because they impact our decisions & choices.
Clearly, there's so much we need to talk about. That's just my first list of things that need to be discussed.
AND, I'm committed to the conversation. So if you want to join our some conversations about this, come on over to the SPARK 4 Community Facebook Group Friday at 12:00 PST and, if you're interested, check out my upcoming mini-course on unconscious bias and emotionally intelligent leadership
I'll close by leaving you with a quote and a question:
"Human progress is neither automatic nor inevitable… Every step toward the goal of justice requires sacrifice, suffering, and struggle; the tireless exertions and passionate concern of dedicated individuals." – Martin Luther King, Jr.
How will you commit to finding ways to choose and teach love in your world today?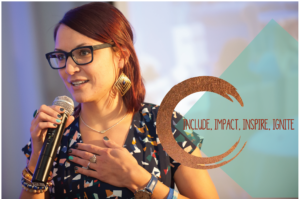 Rachel Rosen, the founder of S.P.A.R.K. Community and S.P.A.R.K. Leadership, is on a mission to start a global conversation about inclusion, empathy, and racial equity. With a Masters from Stanford, and extensive training in educational leadership, coaching, team and organizational development, S.P.A.R.K. experiences are grounded in theory and practice–all in service of making the world a better place. With love. For justice.