Supporting Challenging Students
Raising Awareness Of Blindspots + Invisible Tensions
Challenging students are sometimes viewed as manipulative, attention-seeking, limit-testing, coercive, and even poorly motivated. Have you ever wondered why? The Collaborative Problem Solving Model believes these students simply lack the skills to be anything but challenging. Doing well is preferable to being in trouble, both for the student and the teacher. Getting attention may meet a need for the challenging student; getting in trouble never feels good.
When "challenging kids" come up in conversation, I hear the word "intervention" a lot.
Yet, I notice that what people say and what people do are sometimes misaligned. I want to talk about the heart of the matter.
Teachers (including myself) want students to be successful, but are sometimes quick to become frustrated when an intervention/strategy fails. With focus solely on interventions, the blindspots go unnoticed.
In my experience, we weren't talking deeply and meaningfully about the role identity plays in the blind-spots we have. For example, we didn't talk about the fact that in the school I worked, 80% of the students referred to the principal's office were African American males. It pained me to see indicators of a School-To-Prison pipeline. Later as an Assistant Principal, I saw pervasive disparities predictable and disproportionate by race and zip code. At first, without the skills to address these issues, I felt stuck.  
Both as a teacher and school leader, without my own skill-set, I was an operator in a system that was re-producing undesirable outcomes. I had to take responsibility for making a change. I worked on modeling the practices I expected of my teachers, showed more vulnerability– uncovering my own biases and blind-spots, opening up about my experience as a white woman– and I fumbled my way through many new conversations about race. I admitted that I didn't have the answers, but that I was committed to uncovering the root causes of the patterns.
There were so many invisible tensions, nuances, and unconscious biases at play that were impacting student experiences and causing the discipline and achievement data to perpetuate–we didn't know where to start. Thankfully we had support. Our coach at the National Equity Project and Seneca Center helped us to reimagine our system. That's when we began to the data shift.
Rather than dismantle our entire system at once, we started small, with incremental steps.  
I could write all day about this, but I'll share the four moves that sparked a profoundly impact:
We acknowledged that we all have unconscious bias,

and we protected time/space to reflect on that together —

this was the only way we could address the root cause of the patterns we experienced.

We selected books/articles to

reflect on each month. We hosted voluntary brown bag lunches for folks who want to engage deeper —

this allowed us to have a common language, which was key.

We all selected 1-3 focal students

to better understand the root cause of their achievement gap.

We agreed to listen with empathy, we built rapport, we set mutual goals–all in service of accelerating their learning. (Learning Partnerships are explored in depth in

this book

)

We engaged in critical reflection about our discipline system

on a consistent basis, started by identifying some

de-escalation strategies

we would all consistently use. (my partner later coined "

Stop, Think, Respond

" which as been a big hit)
Bottom line: raising awareness and having a common language was the start of facilitating major change for equity in our system.
All of our students are counting on us.
These four resources are worth checking out:
–
THOUGHTS? REACTIONS? QUESTIONS?
I would be happy to talk more–just fill out this contact page.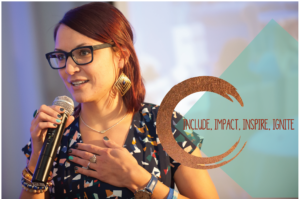 Rachel Rosen is a seasoned facilitator, leadership coach, and the CEO/Founder of S.P.A.R.K. (the product, SPARK Community—a game where everyone belongs–and a service, SPARK Leadership, which offers a range of coaching programs, workshops, and more). She is on a mission to start a global conversation about inclusion, equity, and empathy.  With a Masters from Stanford, and extensive training in leadership, coaching, team and organizational development, Rachel brings a perspective that's grounded in theory and practice. She has an upcoming mini-courses this fall on Equity + Blind-spots 101. If you're interested in attending, email spark@rachelvrosen.com, and she can send you more details!