And The Power Of Good-Enough
"With integrity, you have nothing to fear, since you have nothing to hide. With integrity, you will do the right thing, so you will have no guilt." ― Zig Ziglar
Integrity is one of my most core values.
Everyday I aspire to lead with integrity, and everyday I make choices to do the best that I can with the tools that I have.
I think of leading with integrity as a spiritual act, because leading in deep alignment with my values requires intentional work. Especially now. It requires living and breathing what I stand for. Doing my best not to sway with the noise, listening to my intuition, and letting my moral compass guide me.
Everyday I fumble and fail in some way, but everyday I look myself in the mirror and ask myself–Did you do the right thing? Did you show up authentically, honestly, and with love? Did you choose courage over comfort?
Sometimes an integrity crisis wakes us up and shows us the light. It's typically when our gut speaks to us about a clashing of values.
One of my first big integrity crises occurred when I chose me over who I should be. I felt so many conflicting emotions when I chose to get a divorce years ago. I experienced all stages of grief. Every last one of them. Somedays I hit rock bottom and didn't know how I'd push through. Other days a dark cloud of guilt followed me, as I it replayed conversations from the past. At the end of the day I had to forgive myself for not knowing what I did not know. I came to terms with the fact that I did the best that I could with the tools that I had. I always have. I acknowledged my path and my past. And I chose me. I chose love. I chose truth. I chose integrity. And it changed the trajectory of my life.
That's the thing about leading with integrity. It's not subtle. It's a game-changer. You know when it's in the driver's seat.
On the professional front, after teaching, working 12+ years in education, and launching my own business, I have learned that integrity is everything.
My students were my first integrity instructors. They taught me one of the most powerful lessons–that we must stand firmly in our truth in order to earn respect and trust.
It sounds simple but it's complex.
When I went on to lead adults, that lesson took on different forms, but the essence of it still rang true. We must stand firmly in our truth in order to earn respect and trust–consistently following through on what we said we'd do.
Especially when working across cultural, racial, generational, and identity differences, I've learned how important it is to show up authentically and consistently follow through on what I said I'd do.
Even if I don't execute a plan perfectly, or if I haven't even begun to do the thing I said I'd do yet—communicating where I am at is critical.
A common pattern I see in my leadership coaching is people putting off communication because they aren't done with their plans yet–or they don't have the polished (dare I say) perfect solution yet.
I've been there. I've avoided the email I don't have an answer to yet. I've put off a conversation that's not accompanied with good news.
I get it.
What I continue to remind my clients (and myself) of is this: Doing something small is better than doing nothing at all. It's good enough. We must put our values before our plans, in small and big ways.
I have to remember to ask myself what I'd prefer and respect (putting myself in the shoes of the other person) in any given moment.
Don't you respect people who communicate their values explicitly and let them guide their actions with good-enough solutions? Especially when they show vulnerability and say "look, I haven't done ___ yet, but I also haven't forgotten about it, and I value our relationship so I'm touching base to let you know I still care" OR "I'm just looping back about__ and want you to know I'll get back to you in ___days with a draft"
The truth is, as a recovering perfectionist–and someone who's worked diligently to detox beliefs, mindsets, and world-views rooted in perfectionism–over the years I've learned that leading with integrity is inherently void of perfectionism. I've been thinking about the fact that the two can't coexist (if you value social and racial justice) because perfectionism is driven by dominant, hegemonic culture socially constructed and designed not to serve or support all people. I could go on and on about how systems of oppression and white supremacy are present in perfectionism, but I'll stop there for now.
And say this: there's some liberation in acknowledging that messiness is okay and that we must create space for it. Mistakes are learning opportunities, and we need trusting communities to have our backs when we fall. I'm a work-in-progress in everything I share, and offering half-baked, good-enough ideas is better than staying silent. Especially when it comes to fumbling our way through difficult conversations.
There are enough critics and judgers in the world, and it's not helpful for us to add more of that energy onto ourselves.
The courageous act is slowing down.
The courageous act is checking in with ourselves (before making a decision) and checking our values-filter.
The courageous act is listening to our heart.
And then choosing the path that leads in alignment with that beat.
That's what leading with integrity really means to me.
What do YOU think?
Because I geek out on acronyms, the path of integrity looks a little something like this:
Indivisible values leading the way
No matter what, following through
Truth-telling
Everyday
Guided by our moral compass
Reliable
Inside-out congruence
Talking the walk
You-Nified (empathy and unity driven)
The SPARK acronym also helps us lead good-enough: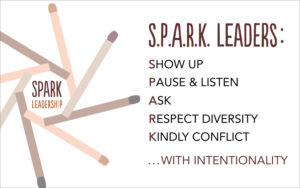 Now I'd love to hear from you.
What questions / dilemmas / connections do you have?
If you have questions feel free to send a message here.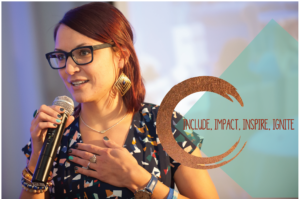 Rachel Rosen is on a mission to spark a global conversation about inclusion, racial equity, and courageous leadership. The Founder of S.P.A.R.K., an inclusive community card-game, and S.P.A.R.K. Leadership, she helps leaders uncover their blindspots and take their diverse team to the next level with intentionality and integrity. With a Masters from Stanford, and extensive training in leadership, coaching, team and organizational development, S.P.A.R.K. experiences are grounded in theory and practice. Discover your S.P.A.R.K. score here.