Some thoughts on why we need to address the root cause of racial bias
If you've watched the news, you have probably heard about the reprehensible event that occurred at Starbucks on April 12 (summary here).
At first I had a lot of reactions and wanted to post with fury. But then, I paused. I've learned, over the years, (sometimes the hard way) to listen and pay attention before making snap judgments and jumping to conclusions. It took me a while to process and assess what was at the root of the situation. So, after a few weeks of engaging in critical reflection, I'm writing to spark a conversation and share some thoughts…
Why? I believe that it's my responsibility–as a white, queer woman committed to social justice–to engage in critical self reflection and intentional action. Because I am an operator in systems of oppression. For me, this means I must both acknowledge the role white supremacy plays in my everyday life AND engage with others from a place of critical self-awareness. Those who know me know that I facilitate workshops on unconscious bias and racial equity for a living, so I have had a lot of thoughts and feelings about all that's happened. I've also paid close attention…
On April 12, I read, I listened, and I paid attention. I noticed what wasn't said.
A few days later, I continued reflecting and processing with my community.
When the police commissioner, Ross, defended his police officer said the men "did absolutely nothing wrong," AND on the same day, Mayor Kenney said he was "very concerned," I paid attention.
When the CEO of Starbucks issued a public apology via video, amidst a sea of boycotts and rallies, I paid close attention.
When I heard Starbucks was planning to shut down all stores on 5/29 so all staff could engage in a racial bias training, I paid attention.
When the police commissioner FINALLY apologized, days later, I paid attention.
I also paid attention when I learned that the manager who called the police, Holly Hylton, hadn't (and STILL hasn't) apologized to Donte Robinson and Rashon Nelson (the two innocent men arrested). When she finally broke her silence, I paid attention.
When Starbucks issued a new, updated, statement, after much critique, I paid attention. Here's an excerpt:
"The training is part of a longer, comprehensive effort to make Starbucks even more diverse, equitable, and inclusive than it is today. This will include ongoing review and revisions of relevant store and corporate policies, guidelines and practices."
When Donte Robinson and Rashon Nelson agreed to a settlement and shared why, I paid close attention, in awe by their strength, leadership, and commitment to having a positive impact.
When Robinson said he appreciates the public support the men have received, and emphasized that anger and boycotting Starbucks are not the solution, I paid attention. Here's a snippet of what he said:  "We need a different type of action … not words," he said. "It's a time to pay attention and understand what's really going on. We do want a seat at the table."
Here's what I noticed after paying close attention:
1. I noticed all the bandaids (quick fixes) being put over broken bones (the fact that dominant culture is rooted in racial bias, unjust/inequitable practices, and white supremacy). Certain people talk about addressing and acknowledging the deep, root-cause of this issue, and other people continue to address the symptoms, pretending as though we need to move on with business as usual.  
I wondered why more organizations don't choose proactive solutions and embed unconscious bias practices into the fabric of their organizations–BEFORE incidents occur. 
2. I noticed how much language matters.  Community discourse is full of blame and judgement. The difference between "let's hold people accountable" and "let's hold people–and ourselves–responsible" is significant.
I want to talk about the fact that we are all responsible for our actions, and leaders are responsible for their actions and their community. We miss an opportunity when we only stay in the lane of "holding accountable." We need to talk about accountability and responsibility.
3. I continue to notice–and say–that two things are true: there are systemic and individual biases at play–so there should be systemic and individual consequences. We miss the mark if we only address one.
For example, Holly Hylton (the manager who called the police) needs to be held responsible–and accountable–for her actions. Removing her from her store isn't enough. Her decision and her actions caused serious harm (two innocent men had to spend hours in jail), so her discriminatory actions should have consequences. To start, she owes Donte Robinson and Rashon Nelson an apology and needs to talk about what it will look like to restore the harm she's caused in the community.
Also, the system needs to be held responsible and accountable--at every level. To start, Starbucks, as a corporation, in addition to the racial bias training, needs to seriously interrogate their policies and practices. They need to look at what they did to foster and/or not foster a culture that talks directly about bias and the need for critical self reflection–especially among their leaders. They need to reflect on what it really means to have an infrastructure for inclusion, with equitable experiences, systems, processes, and practices–that support ALL people. The criminal justice system, police force, and city government systems also need to engage in critical self reflection, and Starbucks can influence that conversation. Research confirms that  Entrenched Racism Manifests in Disparate Treatment of Black Americans in Criminal Justice System (new evidence on The Disparate Treatment of Black Americans in the Criminal Justice System here), so we must do address this, and it will take time.
Bottom line: racial bias and systemic inequities are in the air we breathe and a part of the root cause of these symptoms (more on structural racialization here, thanks to the brilliant work of John Powell).  Confronting and disrupting status quo, and interrupting inequitable patterns takes intentional effort.  In order to change systemic and individual oppressive practices (that have been internalized for generations) we need to talk about addressing the root cause. We also need to normalize that we all (individuals and systems) have major blindspots that are laden with cultural values and beliefs. Doing this work, uncovering biases and blindspots is inherently complex. Leading for equity requires that we look inward and reflect on how our position in these systems (relative to opportunity)impacts our experience.
4. White-identified people, we (collectively and individually) have a lot of work to do. White supremacy is a part of the fabric of our country, and denying it does no one any good.  Being defensive and/or ignoring conversations about race and bias is perpetuating the problem. Holding up the mirror and engaging in critical reflection, asking people about their experience and truly listening to what they say–that takes courage. That takes leadership. Critical self reflection and courageous leadership is necessary if we aspire to be experienced as an ally and/or culturally conscious friend/colleague/family member.  
5. Silence is a weapon. Staying silent when someone says or does something that's wrong–or that has an undertone of racial bias (unconscious or conscious) is not okay. Several folks in Starbucks stood up, spoke up, and captured video footage of the unjust treatment at Starbucks that day. I wonder what would have happened if everyone in that store would have taken a stand.
We must all collectively and individually stand up and speak up for what's right–daily. That usually starts with one conversation. One statement. One question. One "say more…" or "I see things differently" or "I have a different experience. Are you open to hearing it?"…
And we need to step away from our screens and talk face-to-face in these conversations.
6. We must get better at flexing the muscle of discernment, understanding the difference between what it means to respond and react, defend and project. We need to know and understand our coping mechanisms (when we feel triggered/under major stress) as though they are our best friends. That's the essence of emotional intelligence.
There are a lot of great tools out there, and the Johari Window is one of them. I wrote about it here. I have found that taking time to process is necessary in being better at discerning.   The S.P.A.R.K. acronym also helps us flex our discernment muscle, which we explore in depth in our leadership courses.
I'll close, for now, by saying this: I'll always be a work-in-progress, and I'll also always stay at the table when it comes to these conversations. I'm sharing these reflections in hopes that they spark a conversation, because what I know to be true, is that we need commUNITY right now. We need to listen, reflect, learn, and unlearn–in community.
As always, I'll keep reflecting and engaging in my community.  If you're interested in joining the S.P.A.R.K. Community, we have a private Facebook Group of courageous leaders committed to having conversations like these consistently. We're also in the nascent phase of developing an App to address some of these very issues--learn more about that prototype here.
If you want to talk more or share your experience, feel free to reach out or click here.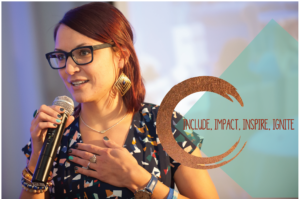 Rachel Rosen is on a mission to spark a global conversation about inclusion, racial equity, and courageous leadership. The Founder of S.P.A.R.K., an inclusive community card-game, and S.P.A.R.K. Leadership, she helps leaders uncover their blindspots and take their diverse team to the next level with intentionality and integrity. With a Masters from Stanford, and extensive training in leadership, coaching, team and organizational development, S.P.A.R.K. experiences are grounded in theory and practice. Discover your S.P.A.R.K. score here.