Are You Clinging to Perfection or Embracing Your S.P.A.R.K.?
In a world of over-saturation, created by the ability to have access information immediately through the internet, what sets a business apart is its soul, articulated through its leadership. Yet, few people have the skill-set to embrace and acknowledge challenges, vulnerably and transparently communicating emotions while integrating action that aligns with values.
One of my coaching clients said "YES" when I reminded her that "two things can be true at the same time—you can be an expert and a learner, you can have a relationship and still manage employees" (after coaching her through a dilemma).
After I shared that, she said, "That makes so much sense, but I've never seen a leader who authentically does that well. How do I know where to start?"
Culturally, perhaps we are ingrained with the narrative that vulnerability is a weakness.
Instead, we might be driven to perfectionism, (especially as women who have worked hard to get a seat at a table). Perhaps we even aim to appear as free as possible from all flaws and defects. Many of us are taught this from childhood. It becomes a mental construct that shapes our narratives about ourselves and others.
Thankfully, there are different types of leadership approaches getting more attention now (including ours at S.P.A.R.K.), that emphasize leading with authenticity, emotional intelligence, and cultural consciousness.
These leaders embrace the paradox of leadership, holding space for both:
Humility and conviction
Passion with stress-free authority
Active engagement while being present to the process and allowing it to evolve organically
Curiosity with certainty in their ability to do the job
Self-awareness and unattachment
Optimism and hope for the future with a realistic and informed perspective
Resistance (to any oppressive, hurtful, harmful practices) and persistence in making a difference
bravery and sensitivity
consciousness and vulnerability, ready to face the unknown head-on
groundedness in both their own and their teams strengths with openness to learning about necessary areas of growth.
Leading this way is complex and nuanced, as you can imagine. This is exactly what adaptive, inclusive leadership is all about.
To answer my clients question of where to begin, we start on the inside, with self-reflection. Shifting to this is not necessarily intuitive, easy when unsupported, or fostered by the dominant culture. However, not only is it possible, it is very rewarding and impactful for our communities.
That's why I have designed and created our signature S.P.A.R.K. Leadership program, that emphasizes leading with cultural consciousness and authenticity…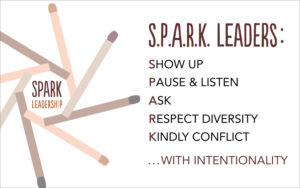 This 10-week journey involves interrupting patterns and confronting incongruences, which shakes us from our comfort zone.
Take a moment to reflect upon and answer these questions:
Are you committed to inclusion and equity and want to communicate with more self-awareness and alignment with your values?
Are you deeply committed to your mission but lacking clarity because there is so much on your plate?
Do you want to get better at navigating tension, discomfort, and/or conflicts within your organization/team?
Do you want to take your facilitative leadership to the next level, hosting conversations in your community and catalyzing more inclusive, liberatory experiences that strengthen relational trust?
Are you at the beginning, middle, or end of a big change or transition?
If you answered YES to any of those questions, you might consider applying to join our leadership program.
I'll close by saying this: Inclusion starts with I, and also contains the word US within it. Our teams need us to provide the quality of leadership that allows everyone to thrive, and it all starts with taking the first step, embracing the paradox, and prioritizing our own development.
Rachel Rosen is a seasoned facilitator, leadership coach, Racial Justice and LGBTQ advocate, and the Founder of SPARK Leadership and S.P.A.R.K., the interactive, inclusive, community-building card game. All S.P.A.R.K. offerings sit at the nexus of Rachel's personal and professional passions. With a Masters from Stanford, and extensive training in leadership, coaching, team and organizational development, S.P.A.R.K. experiences are grounded in theory and practice. If you have any questions or would like to explore a customized engagement, feel free to contact her here.