Hi, I'm Rachel, a facilitator, strategist, and relentless believer in the power of human potential.
I'm on a mission to spark AND sustain conversations about educational equity, while catalyzing courageous leadership at every level of our systems.
I support communities to come together (across racial, gender, cultural, generational and identity differences) and engage in conversations about biases, blindspots, and creating conditions for equity.
With a Masters from Stanford, over a decade working in schools, and years of working for and with the National Equity Project, the S.P.A.R.K. game and approach is grounded in theory and practice. My work is in service of helping communities have more liberatory practices that sustain equity/inclusion work.
My WHY is deeply personal and tethered to the next generation. The love of my life is an African American woman, and I want our future children, who will be biracial with two mommies, to live in a world full of dignity, respect, justice, and equity.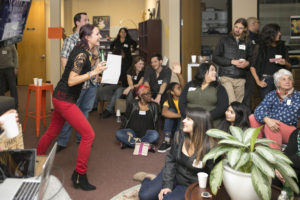 The core values that guide everything I do are the 5 I's: inclusion, integrity, introspection, intentionality, and innovation.
My work is grounded in…authenticity, love, critical self reflection, dedication, hope, perseverance, acceptance that grief and pain are a part of the healing process, and a vision for communities where everyone belongs.
My essential question is…how do we prepare leaders of diverse (multicultural, multiracial, multigenerational) teams to be adaptive, proactive, and intentional in their approach–during times of such uncertainty, transition, and tension?

What I'm Working On: