My mission is to spark AND sustain conversations about educational equity, while catalyzing courageous leadership at every level of the system.
I envision a world in which ALL students have access to a high quality education, (regardless of race/background/zip-code/etc.). I envision a world in which schools are culturally responsive, the school-to-prison pipeline is eliminated, leaders/educators are equipped with the tools/resources they need to reach/teach all students.
SO, I help educational leaders and institutions make progress on their equity and inclusion goals with intentionality. I facilitate workshops, coach leaders, and consult teams, offering assessments (to surface gaps and challenges), strategy, and implementation support–SO THAT they can create an infrastructure for inclusion with equitable conditions while sustaining their DEI strategy with integrity.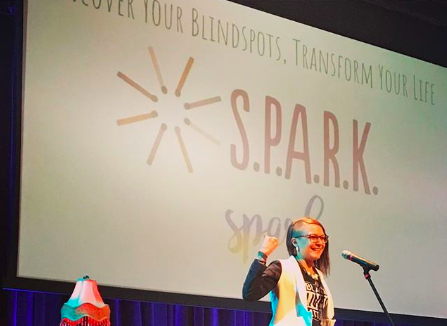 The core values that guide everything I/we do are the 5 I's: inclusion, integrity, introspection, intentionality, and innovation.
WHY: For the next generation. I want my future children, who will be biracial with two mommies, to live in a world where they're seen, valued–and just as worthy as anyone else–in getting the highest quality education to set them  up on a positive life trajectory.

My bio…
Rachel Rosen is a seasoned facilitator and the founder of S.P.A.R.K., a social enterprise committed to inclusion, equity, and courageous leadership. Rachel supports communities to come together (across racial, gender, sexuality, and identity differences) and engage in conversations about bias, inclusion, and equity AND make progress on their equity goals. With a Masters from Stanford, and after years of working for and with the National Equity Project, S.P.A.R.K. products and approach is grounded in theory and practice–all in service of helping communities make sustained progress at every level of their systems. She and her fiance, Lia, moved to Austin in 2018 and are loving it so far.
My work is grounded in…
Authentic love, critical reflection, dedication to justice and equity, acceptance that grief and pain are a part of the process, hope, perseverance and a vision for inclusive communities, where everyone's story belongs.
My essential question is…
How do we prepare visionary leaders of diverse (multicultural, multigenerational) teams to be adaptive, proactive, and intentional in their approach–during times of uncertainty, transition, and tension?

What I'm Working On: